Great Tip for Reducing and Reusing Things at Christmas Time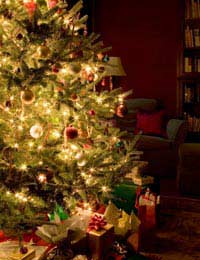 Christmas is traditionally a time of excess in terms of food, drink, gifts and general spending. In the UK alone we can generate as much as 3 million tonnes of waste as a result of Christmas. However, as environmental awareness grows many people are interested in ways that they can have a greener Christmas and still have an enjoyable festive time without being wasteful.
Should I buy a real Christmas tree or a fake one?
What to do about a Christmas tree is a tricky issue for many environmentally conscious people. Having a fake tree usually involves buying a plastic one which is unlikely to be biodegradable, although you can admittedly re-use it for years on end.
If you buy a real tree you are contributing to the chopping down of natural resources. However, you can recycle a real Christmas tree and growing Christmas trees aid absorption of carbon dioxide. If you have a large garden you could buy a rooted Christmas tree and replant it so that it will continue to grow and you can use it again next year with any luck.
There are advantages and disadvantages to both real and fake trees. That's why some people suggest not getting a tree at all and decorating an outdoor tree instead, or decorating your home in a festive but tree-free way.
Re-using at Christmas
As Christmas is such a consumer event these days we often all too easily get whipped up into a frenzy of thinking we need the best and newest of everything. If we slow down and think a little, there are likely to be some areas where we can cut back and use what we already have, or carefully save things for next Christmas.
If you read our article on 'Regifting: What to Do With Your Unwanted Gifts' you might have already thought of saving any unwanted or duplicated gifts to use as presents next year or throughout the year.
Some people buy new decorations nearly every year but there's usually no need. Put your decorations and lights away carefully every year and they will last for many Christmases to come. Check all the bulbs on the lights before they go away and wrap any delicate baubles in newspaper.
An oldy but a goody is to save your Christmas cards and cut the picture side up to make gift tags for the next year. This is a nice task to do yourself if you're feeling crafty and fancy getting the ribbon and plinking shears out. However, children usually love to do things like this too, and it might be a good way to keep them quiet in the post-Christmas holidays.
If you're not averse to eating leftovers (and there's really no reason to be!) you can make your Christmas food go a lot further. People do make jokes about eating turkey curry and sandwiches for weeks on end, but you can make some very tasty things if you get creative. And don't forget the freezer is your friend when there's loads of leftover food. You can even freeze leftover vegetables to make soup and stock. Once you have stripped the turkey of all the meat, you can boil the carcass to make stock for soup. The stock is freezable too - waste not want not!
If you've got children you're unlikely to get away with this with them, but when you open your own presents keep the paper as intact as possible and you may well be able to use it for craft projects or to wrap smaller presents later on. Gift bags are great for reusing as well.
Save shoe boxes or other large boxes that you get presents in and you can use them, wrapped, for gift hampers later on (more eco-friendly than buying baskets!). They also make good storage boxes for kids' knick knacks.
There are loads of ways you can re-use at Christmas. Just stop and think before you throw things away or buy something new. You'll be amazed at how much you'll save, how much less waste there is and how being green doesn't have to affect your enjoyment of Christmas at all.
You might also like...