Crafty Uses for Your Home and Office Waste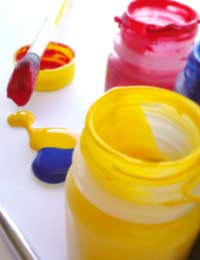 There could be a couple of reasons that you're interested in using waste for art and craft projects. Maybe you just want some ideas for alternative things to do with your waste other than throwing it away or just recycling. Alternatively, perhaps you enjoy crafting but don't want to waste resources. Besides, commercial craft materials can be very expensive!
Crafty projects with waste are only limited by your imagination. Here we have rounded up a few ideas to get your creative juices flowing!
Pots and Jars
Plastic pots and jars can come in handy for all sorts of craft projects. At the simplest level you can use yogurt pots and glass jars as little paint pots and glue holders. Children will also enjoy using food packaging for playing shop - cheaper than the plastic toy food you'll buy in toy shops that's for sure!
If you come across any pretty bottles or glass jars they make nice storage containers or vases. You can even get some glass paints and set about making your own eye-catching designs.
Fashion
There are loads of fashion statements you can make with household waste. People are increasingly trying to create a unique style and by customising your own look with unwanted household waste you'll definitely look more original than if you spend loads on the high street.
Old clothes can be customised in numerous ways. Cutting up and reconstructing old T-shirts is especially popular. Your male friends or relatives may have some old T-shirts that are too big which you can personalise. Band T-shirts are especially trendy. Some ideas include lacing coloured ribbon up the sides or the back, adding lace and sewing on sequins and beads.
If you live with someone who likes to sew you can bet there will be a box of mixed buttons around somewhere. They are like treasure to some crafters and clothing be-decked with buttons is really fashionable at the moment. Use them to jazz up dresses, shirts and T-shirts, making them into ear-rings, string them into a necklace and decorate brooches and hair pins. If you are ever recycling or re-using the fabric from shirts and jackets always cut the buttons off and add them to your button stash.
Boys don't have to be left out either. Jeans, T-shirts and shirts can all be jazzed up with fabric paints, screen-printing or some strategic chopping.
There are even some instructions online for making a bag from old juice cartons. It might sound naff but they have a very modern, stylish Japanese look and if you saw one in a shop you'd pay over the odds. Just google 'juice carton bag' for loads of instructions.
Paper Goods
Most businesses and homes produce at least some waste paper. Magazines, newspapers and coloured papers are great for collage and decoupage.
If you're an aspiring drawer or artist the blank side of waste paper is fine for practising and is far less wasteful than buying drawing books.
Homeware
If you haven't used all your leftover fabric up on making new fashions for yourself you can use them to jazz up your home. Old fabric can be shredded up to stuff cushions. You can also make the cushion covers from old tablecloths, curtains and bedspreads. Charity shops often have these items with retro designs on them.
Old lampshades can be fabric painted to brighten them up and modernise them. Check the instructions on the paint to make sure it's suitable Look around trendy home décor sites and shops for design inspiration.
Using old records is popular these days. You can melt records to make unusual bowls and use sleeve art to decorate your walls, for decoupage and even to make bags and folders.
This article really only scratches the surface of crafts you can do using items you would initially presume were waste and fit for the bin. The possibilities are endless so get your thinking cap on - if you put your mind to it you can probably make yourself one from an old egg box!
You might also like...