Ways to Make Money from Your Waste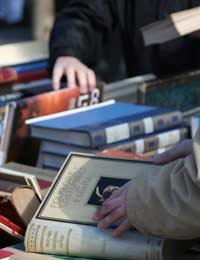 Re-using waste is better for the environment and can be a great way to save money. Those who are committed to reducing and re-using items wherever possible are likely to use goods for much longer, buy second-hand and only make purchases when it's absolutely necessary, thus saving money. However, there are a few ways that you can also make money from your waste.
Sell your unwanted goods
If you have unwanted goods around your home, why not consider selling them? Doing this, you'll be encouraging others to re-use rather than buying new and you'll also be bringing in some extra money. There are lots of different options for selling your unwanted items. These include:
Attending a car boot sale – great for general household bric-a-brac
Selling online, using auction sites such as eBay – easy to set up from the comfort of your own home and great for collectors' items. Remember, good photos, a clear description and good communication are key to eBay success.
Approaching specialist shops – if you have specialist items such as antique goods or vintage clothes, for example, you may get the best deal if you approach a specialist dealer.
Advertising in a local paper or magazine – consider advertising your unwanted goods locally. The rates are usually cheap and the buyer will usually expect to collect the item from you.
Get crafty with your waste
Items made from waste are a growing trend and if you can learn the appropriate skills to a high enough standard, you could sell the fruits of your labour to promote the cause and make some cash.Popular items include:
Clothing made from vintage fabrics – raid your own stash and scour charity shops and car boot sales
Bags, baskets etc. created from plastic carrier bags. Weaving with plastic carrier bags creates a surprisingly sturdy fabric, perfect for creating items like sturdy shoppers and decorative bowls. Many of those being made have a brightly coloured, retro look.
Button jewellery and decoration is on-trend right now. Try using vintage buttons to make a bracelet or necklace or to brighten up a second-hand dress or jumper. Never throw buttons out – their crafty possibilities are just about endless.
Record bowls – melting an old record down to create a bowl makes a fashionable item for the home.
These are just a few ideas you could try, but check out craft fairs, forums and sites to get more ideas for using up goods that you'd normally get rid of. There is also a growing number of 'How to' articles on this site to get you started with crafting with waste.
To sell your crafts, you could attend local craft fairs, set up your own website or set up your own shop on a website such as Etsy.
Sell energy
If you generate your own renewable energy for your business or your home, you may create more than you need or can use. In this case, you can actually sell it back to the National Grid so that the energy isn't wasted.
Currently to do this, you need to buy an export meter (which costs around £75) and then register to sell supplies to the grid. You need to negotiate a rate per unit with your energy supplier. However, the Government plans to make the process simpler in future, to encourage wider use of renewable energy schemes.
More ways to make money from waste
Broken electrical item? See if you can sell the parts of broken items such as computers. Sell the computer as a whole – those who are interested in it for parts will take it apart themselves. Don't forget to remove all your information from it first.
Cash in your old mobile phone – as long as it works and has a charger many organisations will now offer you cash for your old mobile phone.
You might also like...
I am planning to collect waster papers and make few products after recycle the waster papers. Please guide me what products can be made out of the waster papers that can be marked in India.
Sudhir
- 8-Aug-14 @ 11:36 AM