How Do I Dispose of My Broken Fridge Freezer?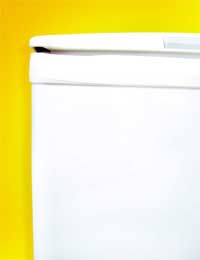 Q.
Could you please advise me of how I can dispose of a irreparable fridge freezer as I do not have the funds to pay for the local authority to collect it.
(Miss Cheryl Christy, 10 September 2008)

A.
In fact, it's very difficult to get someone to take away an old fridge freezer free of charge. Charges for collecting a fridge freezer range from £5 to £30.
Your first port of call for disposing of a fridge freezer should be your Local Authority to find out what their charges for fridge collection actually are and whether there is any help available for those that need to dispose of a fridge but can't afford to pay the collection fee. They may be able to waive the fee in certain circumstances so it's worth asking about this.
Fridge Freezer Disposal: DIY
Your Local Authority will also be able to advise you on how and where you can dispose of the fridge yourself. If you can transport the fridge freezer yourself (or get someone to help you) to a designated hazardous waste recycling site then you shouldn't have to pay for this. It's important that you do find out which specific sites you can use as not all waste recycling sites are suitable for fridge freezers.
You may need some proof of identification to prove the fridge was for personal, rather than business use.
Private Fridge Freezer Collections
Additionally it's possible that a local furniture recycling or waste removal company in your area will collect the fridge for a lower price than the one that your Local Authority charges. Many of these companies refurbish or use parts from old furniture and white goods so that they can provide household goods free or at low-cost to people in need. With this in mind, if you have financial difficulties and can't afford to pay a fridge freezer collection fee, these companies may consider waiving or reducing the fee.
If you are buying a new fridge freezer and having it delivered to your home, the retailer may agree to dispose of your old fridge freezer for you. Again, many companies do charge for this though.
Fridge Freezer Disposal: The Law
Disposing of a fridge freezer can seem confusing and more trouble than it once was. The reason is that the disposal of fridge freezers is now tightly regulated because of the fact that some components of fridges can be extremely harmful to the environment.
Since January 2002, all ozone-depleting substances (ODS) must be removed from a fridge before it can be recycled or thrown away.
Anyone found not disposing of a fridge freezer properly – and this includes fly tipping – is eligible for prosecution and a fine of up to £2,500.
You might also like...
I have paid to the council to collect 2 Fridges. But they wanted to leave it in front of my house. I couldn't move it to the front. In the end lost my money and the fridge is in the garden. Any help, please.
LUXMY
- 25-Jun-21 @ 10:14 PM
I have a American fridge freezer to get rid of
Tof
- 20-Sep-20 @ 11:37 PM
I have a chest freezer that needs removal NOT
Bar
- 17-Sep-20 @ 7:33 PM
I have two fridges to get rid of standard size
Bidds
- 6-Sep-20 @ 6:54 PM
Unwanted Fridge freezer need to be removed. Thanks
Lena
- 3-Sep-20 @ 2:15 PM
i have a fridgefreezer , not needwd anymore , who can i contact to pick up from Qurinidi nsw?
sandy
- 17-Jun-19 @ 6:03 AM
Need a fridge freezer uplifted gota new one
Shazza
- 12-Apr-19 @ 5:19 PM
David - Your Question:
Hi. I've got a small chest freezer in good working order I need someone to take it away as I've just bought a new fridgefreezer
---
Our Response:
We hope the above article gives you the information on who you should contact for help.
GreenUsesForWaste
- 30-Jul-18 @ 1:57 PM
Hi. I've got a small chest freezer in good working order I need someone to take it away as I've just bought a new fridgefreezer
David
- 27-Jul-18 @ 12:02 PM
Hi I have an American fridge freezer still works but sometimes leakes water how do I dispose of it that doesn't cost to much thanks
Brookygirl
- 6-Mar-18 @ 9:50 PM
Hi i just wonderd if you no if any one could pick up a broken fridgefreezer
Hearbear
- 10-Feb-18 @ 2:48 PM
Have a fridge freezer and a dryer that I need to get rid of
Denise1965
- 28-Jul-17 @ 6:07 PM
My neighbour dumped an oldfridge/freezer in his front gardenover 12 months ago. I have asked him to have it removed but he refuses. As the freezer deteriorates surely there is a danger to the environment. What can be done about this danger.
BTB
- 21-Jul-17 @ 6:32 PM
Moonbeam- Your Question:
Phoned the council to take fridge freezer away and the can not take it away till a mouths time I have cancer and asma I think it is decusing
---
Our Response:
Try a local charitable organisation or a handy man instead?
GreenUsesForWaste
- 7-Apr-16 @ 11:26 AM
Phoned thecouncil to take fridge freezer away and the can not take it away till a mouthstime I have cancer and asma I think it is decusing
Moonbeam
- 6-Apr-16 @ 11:26 AM
I have tried the council to help me dispose of my 2 fridges and 1 ice machine but unable to still find a solution. I need help in disposal of these item or aslocal company that can help Tjanl