Can Used Cooking Oil be Put into Garden Compost?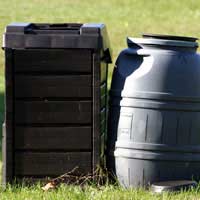 Q.
Can used cooking oil be put into garden composter with the other house hold peelings etc.
(D.F, 8 July 2009)

A.
It is normally advised that you avoid putting used or unused cooking oil into composters because the danger is that it could attract vermin. Cooking oil can also slow down the composting process because it displaces water.
However, very small amounts of cooking oil, like vegetable oil and olive oil can be OK to add to composters. What is vital is that they have not come into any contact with foods that are definitely not allowed into compost such as meat, fish and cheese. The oil needs to be circulated well with brown matter and mixed regularly.
Additionally, some food digesters can break down moderate amounts of cooking oil so these could be worth investigating too. Digesters are specifically designed so that they don't attract rodents and other pests. Many people strain (using cheesecloth) and re-use cooking oil that has been used for frying vegetables(not meat or fish). You can also use oil to make items such as soap, hand moisturiser and bird-feeders. For toiletry items, essential oils will remove any cooking smells.
Be aware if you are re-using oil for cooking that over time the flavour may become impaired. Try a small piece of food before cooking everything in the oil to check that it tastes OK. You can look up tutorials for making items like soap and birdfeeders online.You can also investigate companies that make bio diesel. Some will collect vegetable oils and pay you for them.
Disposing of Oil
If you can't re-use oil at any point, it's important that you dispose of it correctly. Never:
Pour oil down the sink – it can clog up the drains badly
Pour oil down the drain – even small amounts can solidify and cause significant problems
Add used oil to your recycling
If you have a small amount of cooking oil, dispose of it with your regular waste. It's best to allow it to cool and solidify before throwing it away. Put it in a sealed disposable container before putting it in the bin. If you have a large amount, for example from a catering business, contact your local authority to find out how to dispose of the oil.
You might also like...