Great Ways to Reuse Greetings Cards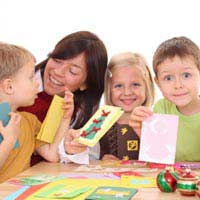 Throughout the year, most of us probably receive a significant number of greetings cards thanks to Christmas, birthdays, anniversaries, Valentine's and more.
When the celebrations are over, most people at worst throw the cards away and at best recycle them. The greenest thing you can do, though, is re-use them as much as possible before recycling them. Re-using greetings cards can also save you money because you may well be able to make things you'd otherwise have had to buy.
Here are a few things you can do to get the most out of greetings cards:
Gift tags
Rather than buying gift tags, why not make your own from old greetings cards? Choose part of the card that you like and cut out. For an extra decorative effect you can use crimping scissors for a waved edge. Punch a hole in the corner and thread with matching ribbon.
Kids will enjoy doing a task like this after Christmas or a birthday.
Cards and postcards
By removing the message half of the cards you can also use the picture to make your own postcards or another greetings card.
Notepaper
Greetings cards make great notepaper for writing everything from shopping lists to telephone messages. Keep a stack in the kitchen and/or by the phone for these purposes.
You could also write recipes on the back of greetings cards and keep them in a decorative book.
Wall art
If there are some cards that you particularly love and which aren't celebration-specific, you could frame them and hang them on the wall at home. Wall hangings like this make lovely gifts as well.
Coasters
Cards cut into squares can be made into coasters or even placemats (if the cards are large enough, or they can be collaged). Just laminate the card or put it between sticky-backed plastic.
Bookmarks
By cutting the front part of the card (which contains the image) into strips, you can make bookmarks from old greetings cards. These could also be laminated to make them last. They make nice gifts to go with books that you buy for people.
Jigsaw
Cut the front of a greetings card into various pieces of different shapes and sizes. Children can then play with this jigsaw puzzle.
How to make a gift box from an old greetings card
It's quite easy to make old cards into pretty gift boxes.
Step one: If the card has writing inside, glue some co-ordinating paper over it.
Step two: Cut the card down the central fold.
Step three: Take the plain half of the card and trim it slightly all the way around. This will form the bottom of the box so it needs to be slightly smaller so the lid will go on.
Step four: On both pieces of card, measure one inch from each edge and score a line. You will end up with a rectangle shape and a square in each corner. Change this measurement to vary the shape and size of the box.
Step five: Fold the card where you have scored it.
Step six: On the short ends of the card make a slit where the sides overlap. You will end up with a flap which you can fold in and tape or glue to make a box.
You might also like...