How to Reuse Coffee Grounds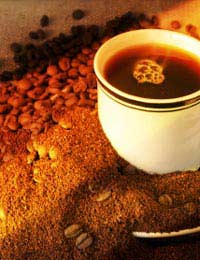 Coffee grounds are a classic example of waste which many people don't think they can re-use. Around 3,400 cups of coffee are consumed throughout the world every single second, so that's a lot of used grounds getting thrown out!
As well as being a way to cut down on waste, re-using coffee grounds could also be a small but significant way to save a little money.
Here are a few ways you can make use of used coffee grounds:
Get rid of drain smells
If your drains smell a bit whiffy, coffee grounds can improve things. Pour around half a cup of used grounds down the drain. Follow this immediately by about five cups of boiling water. Speed is essential as the water will ensure the grounds do not block the drain. You can do this around once a week to neutralise odours.
Deodoriser
In the same way that coffee grounds can stop drains smelling, they can also remove odours elsewhere around the home. Don't worry, though, your house isn't going to smell of coffee! Once the grounds are dried, they absorb other odours, rather than imparting their own.
Lay the grounds on foil and leave them to dry completely. Take some old tights and put the grounds in there and tie off with a secure knot. You can then just put the small pouch anywhere where you need to, for example in cupboards, in your fridge or in drawers. The effect will last from two weeks to a month.
Using coffee grounds as a dye
You can use coffee to dye various materials such as fabric and paper. All you need to do is wrap the grounds in a filter (sealed with string or similar) and soak them in two cups of hot water for five minutes. The remaining water is then suitable to use as dye. If you need to dye a large piece of fabric or lots of paper, just increase the amount of grounds and water in equal ratios.
You can also experiment with the ratios of coffee to water to get a darker or lighter shade of dye.
Coffee grounds as a cleaning product
Coffee grounds can be used as a useful cleaning product. Coffee grounds can be useful on all sorts of items which have ground-on dirt that needs to be removed. For example:
It is the abrasiveness and acidity of coffee grounds which help to lift dirt. Be careful that anything you use coffee grounds on is stain-resistant as coffee can leave a brown discolouration (see above).
Just use the coffee grounds with water and a brush or scrubbing cloth on any items that need cleaning.
Fertiliser
Coffee grounds make an excellent fertiliser. Sprinkle the grounds on the soil of plants such as: roses, carrots and rhododendrons.
Use the grounds on the soil of any plants that like acidity.
Pest repellent
Coffee repels ants, slugs and snails. Sprinkle the grounds anywhere you need to keep pests out.
You might also like...