Clean Your Home with Ingredients From Your Kitchen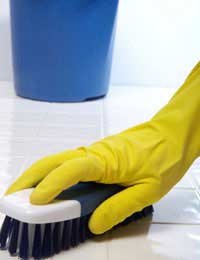 The chemicals used in most manufactured cleaning products can cause some serious damage to the environment. The chemicals can pollute water and take many years to degrade into a harmless substance.
However, obviously people need to keep their homes clean. It is possible to have a spick and span house, using natural, environmentally-friendly products that will be found in most kitchens. Even if you don't already have these ingredients they are readily available in supermarkets.As well as being much better for the environment, green cleaning products last longer and are a lot cheaper as well.
You can clean up with non-toxic cleaning supplies such as:
Lemon
Soda water
White vinegar
Water
Baking soda
Rubbing alcohol
Olive oil
Coca cola
Here are some of the ways which green cleaning products can be used:
All-Purpose White Vinegar
White vinegar is one of the most effective (and cheap) cleaning supplies you can get. And, don't worry it won't make your house smell like a chip shop - the vinegar smell completely evaporates after about five minutes.
For a basic cleaner which can be used on pretty much any household surfaces, dilute one part vinegar with one part water in a spray dispenser (available from any household shop or garden centre). Just spray and wipe on kitchen surfaces, bathrooms, stove tops and anywhere that's looking a bit grimy.
Clothes sometimes come out of the washer with soap residue on them, try adding a cup of white vinegar before the final rinse. It won't harm the fabric of clothes.
Spraying some of the water and white vinegar mixture will also deodorise any rooms that need freshening up.
Cleaning Up in the Kitchen with Organic Cleaners
Lemons bring loads of household products up shiny and clean as well as smelling really fresh. A dish cloth soaked in lemon juice should cut through grease as well as any washing up liquid.
Lemons are also great for anywhere in the kitchen that has food smells, such as fridges and microwaves. A good way to clean a microwave is to put a teaspoon of white vinegar in a bowl of water, then zap it for 30 seconds and wipe the microwave round with a lemon soaked cloth.
If a pan has accidentally been left to boil dry it can look like it's fit for the bin. First try boiling up some coca cola in the pan. The coke should lift the caked on food right off.
A Lovely Loo
Getting a loo sparkling clean doesn't have to mean pouring loads of harsh bleach down it. White vinegar to the rescue again - flush the toilet and when the water is at the lowest pour in some undiluted white vinegar, then give the bowl a good scrub as the water rises again.
For a loo that is looking a bit murky, pour a can of coke down it and let it sit a couple of hours. Flush and the coke should have removed any stains from the china.
Windows
Mix one cup of rubbing alcohol with one tablespoon of white vinegar,a cup of water and some lemon juice. Rub the concoction on with some newspaper and polish it off again with a clean piece of newspaper.
Furniture
Make your own furniture polish. To clean a wood surface add quarter of a cup of lemon juice to half a cup of olive oil and rub on with a soft cloth.
Carpets
Stained carpets - if red wine gets spilled on the carpet pour soda water on it pronto then dab up the excess. Even on old stains soda water should lift them a bit. Some cleaners leave a residue which attracts more dirt and marks, but fizzy water doesn't. Dampen a cloth with the water and blot or very gently rub the stain.
Drains
Clogged drains - to avoid sinks and drains clogging up pour a quarter of a cup of baking soda down the drains each week then follow with hot water.
These are just a few of the ways everyday organic ingredients can be used around the home for cleaning in an environmentally friendly way. Green cleaning is an important way to cut back on waste, avoid contributing to environmental damage and save money.
You might also like...