What to do With Your Leftover Paint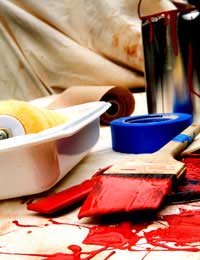 It's very difficult to buy the exact amount of paint for any household painting projects that you are doing. Consequently it's quite common to have paint left over after you have painted everything that needs it - estimates suggest that 80 million litres of paint are left over and unused in the UK each year. That much paint would fill 33 Olympic swimming pools!
So, what can you do with leftover paint? We give you some ideas:
Buy Wisely
Although, as we have said, it's almost impossible to buy the precise amount of paint that you need for your project, you can still minimise the amount you have left over by planning as carefully as you can.
Most tins of paint will include some printed guidance on the area that the tin should cover. You can also ask paint specialists in the shop for advice on how much paint you will need and how to get the paint to go as far as possible.
If you only need a small amount of time, you can get a tester pot of paint for just a few pounds.
Uses for Leftover Paint
It's likely that leftover paint will come in handy. If your paintwork gets chipped or marked a dab of paint will clear things up quickly and you'll be glad of having some leftovers rather than buying a whole new tin.
If you have a fairly large amount of paint left it's worth seeing if any friends or neighbours need any paint. Ask around or post through a website such as freecycle.
Sometimes paint retailers and manufacturers will accept leftover paint back as they can use it to mix new, darker colours.
Store your Paint for Later Use
If you want to get as much use out of a tin of paint as possible, you'll need to store it properly. If you don't store it right it could become useless.
Give it a good stir when you want to store it and then pop some cling film over the top. On top of the cling film put the lid on as securely as you can. You may want to tape it just to be sure. When the lid is on properly, experts suggest storing the tin of paint upside down.
Make sure you don't store the paint anywhere too cold as it could freeze or become impaired if the temperature is too low. Room temperature is fine.
Donating Leftover Paint
If friends or family don't need your leftover paint and you won't use it yourself, there are a few other people who might.
Local organisations may be glad to receive leftover paint. You could try asking theatre groups, art colleges and clubs, painting and decorating courses, charities and church groups.
There is a national scheme called Community RePaint. The scheme runs throughout the UK and matches leftover paint with people who need it. Community RePaint has donation centres throughout the country and will also sometimes collect leftover paint from business, if there is a large amount.
If your Paint is Not Re-Usable
If your paint is no longer in a usable state, you still shouldn't throw it in the bin. Toxins from paint can be very harmful to the environment. Paint put in the bin can also damage and make a mess of waste disposal facilities.
If you can't donate the paint, contact your Local Authority to see if they collect leftover paint or to find out how you can dispose of it. They will direct you to the nearest Household Waste Recycling Centre which has a licence to handles hazardous waste.
Never ever pour leftover paint down the sink or drain.
You might also like...