All about Give Away Shops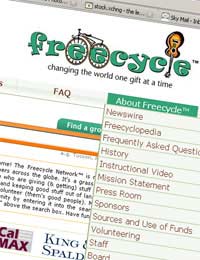 Give away shops do just that – they give goods away. Yes, really. Everything in a give away shop has been found or donated and people can take what they want away for free.
Naturally, because give away shops make no profit they are almost always staffed by volunteers. Give away shops are sometimes located in squats or within places such as community centres and volunteer organisation premises.
Give away shops can be permanent fixtures within a building or one-off days or events.
Give Away Shops: The History
People who use give away shops may be people without much money, such as those on low incomes, students and the elderly. However, just as often the people that set up and use these shops do so for an ethical reasons. Similar to the freegan movement (and indeed give away shops are likely to exist in freegan communities) give away shops are anti-capitalist in that they provide an alternative to high street shopping.
Give away shops are also popular with environmentalists because they promote re-using goods, buying less, and using less resources.
The first give away shop, or free store, was opened in the Netherlands. There are now quite a few give away shops throughout Europe in places such as the Netherlands and Germany. There are also a number of free stores in America, where the freegan movement is most prevalent.
In the UK awareness is growing of give away shops and events and free stores are popping up around the country.
Starting a Give Away Shop
Anyone could start up a give away shop. Most places are suitable, for example in the office or at the local community centre. A cupboard or table is fine and people can donate and take away as they wish.
One person, or everyone, could take responsibility for keeping the area tidy and perhaps sending a quick email or verbal message around if the area is getting too full.
One idea is to label the goods with the date they were donated. If they haven't been taken away within, say, three months, they could then be donated to a charity shop.
One-off give away events could also be held on a certain day each month, or on stalls at village fayres and jumble sales.
Online Give Away Shops
Obviously one of the problems with give away shops is the space that they take up and the limited amount of people that have access to the goods. Obviously, the more people that have access to goods, the more likely they are to be taken. That's why many give away shops are often run online.
A micro version of these online free stores could easily be managed in most organisations or online groups. A message board or email ring will suffice. One person posts what they want to give away and then someone else claims it. Simple.
Large versions of give away shops now run on a regional, and even national, level online. The most famous example is Freecycle.
You might also like...
I would like to a apply for your 'give away shops'. What shall I do now.