A Guide to Buying Recycled Goods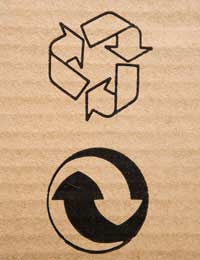 Recycling and re-using waste from the home is one part of the recycling process. The materials that are sent for recycling are then made into more goods. By buying products that are made from recycled materials the recycling process goes full circle.
The recycling symbol in fact represents this continuous loop of recycling with its three arrows in a circle. There is now a surprising number of recylced products to buy
Why Buy Recycled?
There are plenty of good reasons to make a conscious effort to buy products made from recycled materials:
The more people that buy recycled products, the more will be made available and the more the price of the goods will drop.
Buying recycled goods reduced the amount of materials being sent to landfill.
The manufacture of recycled goods uses less energy and resources than making new products.
The recycling industry creates jobs and vocational training opportunities.
What Recycled Goods are Available?
There is an increasingly large range of recycled products available. You might be surprised at some of the recycled items you'll find on the shop shelves these days. Some recycled products include:
Refuse sacks made from 100% recycled materials
Kitchen worktops made from recycled glass
Fleece coats made from recycled plastic bottles
Clothes made with recycled textiles
Glasses manufactured from recycled beer bottles
Aluminium foil made from…aluminium foil!
What are Recycled Products?
Recycled products may be made completely or partly from waste. This waste may come from consumers' recycling, waste that has been sent for landfill, or waste generated through manufacturing processes.
Recycled Goods FAQs
Aren't recycled goods a lot more expensive?
The difference between the price of recycled and non-recycled goods is often negligible. As recycled goods grow in popularity, the price is also steadily falling. It's in the interests of recycled goods sellers to price competitively if they are persuade consumers to make the switch.
Where can I buy recycled goods?
Recycled products are not hard to find and are increasingly widely available. They are often available in supermarkets and in high street shops. For those who live in more remote areas recycled goods can easily be bought online and delivered.
Does the recycling process use more energy than new materials?
This is a common misconception but isn't true. Manufacturing products from recycled materials uses less primary raw materials and significantly less energy and water. Further, manufacturing recycled products creates less air and water pollution.
More Ways to Shop Green
Avoid unnecessary packaging. Our article on 'How to Avoid Excess Packaging' provides more information on this. Buy items loose where possible.
If packaging is unavoidable buy items with recycled packaging.
If the shops you regularly visit don't stock recycled goods, ask them about the possibility of this. The customer is always right after all.
Choose energy efficient products where possible, such as low energy light bulbs and rechargeable batteries.
Avoid disposable products. Our article 'Great Ways to Avoid Disposable Products' provides ideas and tips on this.
Buy organic and local produce if possible.
You might also like...
i like to recycle it really good for the evierment and i like to know it is getting renewed every time.
shamzy12
- 6-May-11 @ 10:46 AM