Great Ways to Avoid Disposable Products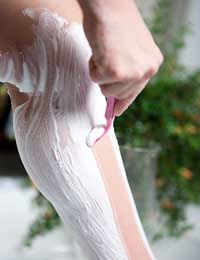 Many products come in a disposable form and are seen as a convenient and cheap option. However, by their very nature disposable goods use a lot more energy and resources than their re-usable alternatives - so many more disposable products need to be made.
Almost all disposable products have a more durable and long-lasting counterpart which will serve just as well. Re-usable products also actually cost less in the end, although disposable products may be cheaper on a unit-by-unit basis.
Reasons to Avoid Disposable Products
Although disposable products may seem like the handiest option, there are good reasons to avoid them where possible:
The majority of disposable items available in the shops are made of plastic, including cameras, razors, nappies and drinks bottles. Oil is required to make more plastics, and due to its durability plastics don't decompose well. Further, if they are burned plastics give off harmful emissions.
Buying a good quality, re-usable alternative to most disposable product will save you a lot of money in the long run. A good quality item will often last years, whereas the odd few pounds here and there spent on items which are disposed after one use will all add up.
Choosing a long-lasting rather than single use item will keep more waste out of landfill.
Even when goods can be recycled, as many plastics can be, the recycling process still uses energy and resources and often still produces some waste.
Using one long-lasting item, rather than buying a few disposable versions reduces clutter in the home.

Alternative Ideas

Razors: Millions of razors get sent to landfill every year. Although marketing campaigns might have us believe differently, there are alternatives to plastic, disposable razors.

Firstly, there's the electric razor. Yes, it comes in a plastic casing usually, but these razors can last for years. The blades may need replacing but the metal for these can be recycled easily.

For the brave there is the old school option of a straight razor. The blade in these is permanent and needs to be sharpened. For the more faint of heart who still want a shave there are safety razors which are built to last and the blade can either be sharpened or replaced.

Batteries: A recent report by Uniross found that rechargeable batteries have 32 times less impact on the environment than disposable ones. Batteries are made up of metals such as mercury and lead. In landfills the metals can seep into the soil and water. If batteries are burned then they can release harmful gases and toxins.

If you do have batteries to dispose of ask your council how you should do so. Rechargeable batteries last for years and will work out a far cheaper option that regularly buying throwaway batteries.

Nappies: 90% of nappies that are thrown away end up in landfill and can take up to 100 years to decompose. More and more people are switching to re-usable nappies to cut down on waste and to save money. Our article on this site 'Alternatives to Disposable Nappies: How Green Are They?' provides more information on real nappies, as they are also referred to.

Sanitary protection: It surprises (and horrifies!) some people to find out that re-usable sanitary protection is available. However, disposed of tampons and sanitary towels often end up on beaches, in landfill or even in the sea. That's even more horrifying. Re-usable tampons and towels are both available and are less squirm-inducing than you might think. See our article 'Going Green: Reusable Sanitary Protection' for more details.

Plastic bottles and boxes: Stainless steel flasks and boxes last years longer than their plastic counterparts. In fact, if they're not lost they will probably last forever.

Tissues: It's easy to go through loads of tissues without really realising it. Whatever they're used for, there's an alternative. Cloth hankies are fine for nose blowing and can even be made from old bed linen to avoid paying for them. Again cloths are better for both wiping up spills and facial cleansing.

These are just a few ideas. The task of finding re-usable alternatives is ongoing and it will take time for more green products to appear. In the meantime if you do use any disposal products it's well worth investigating what the alternatives are.

You might also like...