I Became a Freegan: a Case Study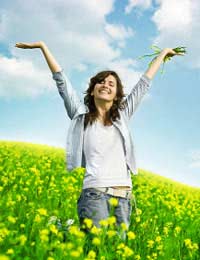 Grace is a freegan. There are loads of definitions floating around for what a freegan is.
As a practicing freegan, what does freeganism mean to Grace? She explained: "To me, 'freeganism' refers to a set of ideals related to how our actions (particularly consumption) impact the earth and its population. Implementing the best use of resources is an important aspect of a freegan lifestyle. Freeganism is practiced through such things as dumpster diving (using resources that would otherwise go to waste), voluntary work (sharing human resources, like time and skills), and finding ways to limit consumption and materialism (in our own lives and those of others). Freeganism is about a lot more than dumpster diving or getting things for free - it is about creating a more sustainable way of life. Recycling is good, but a change of attitude is better."
Being a Freegan
Grace told us about what her freegan lifestyle involves on a day-to-day basis: "My lifestyle is quite flexible because I do not work in a job for pay, so my daily activities vary. But I do consistently bin raid for basics like food and clothing (and whatever random goodies show up in the bins). Another consistent part of my lifestyle is doing work for free, though the type of work varies, too. I have done garden jobs for people, picked up litter, cleaned houses, worked on construction sites and so on, as needs come up (for friends and for strangers). Another aspect of freeganism that is important to me is education of the masses. My friends and I like to speak to people about the ideals and goals of the freegan movement and to make them aware of issues that we see are important, such as the waste that goes on in the name of consumerism."
Health and Legal Issues
Many people are put off the idea of freeganism as they see it as unhygienic and illegal. Grace doesn't see it that way. She said: "I do not worry about my health at all. With bin raiding, it just takes common sense to know what is edible and what isn't. Most food that you find is quality product, often within date and very clean. I can confidently say that I eat better as a freegan from bins than I did when I paid for my food. I could not afford the kind of food items that I find thrown away.
"Legal issues should not be a problem because bin raiding is not stealing...we are taking from what has been thrown away. The only grey area comes when people are accused of trespassing, but I do not worry about such implications because it is not common for people to get into trouble for such a small thing as dumpster diving."
Reactions
Many people see freeganism as being somewhat unconventional. Does Grace experience any negative reactions to her lifestyle choice? She said: "Many people do not understand a lot about freeganism. I have been called lazy because I do not get paid for the hard work that I do. Some people say that freegans are freeloaders that do not contribute to society and the image of freegans is not always positive. Other people have been inspired by the 'eco-conscious' lifestyle that my friends and I try to lead. I have started a few people dumpster diving who had never done it before and have encouraged them to waste less."To anyone reading this who is thinking of becoming a freegan or trying some of the practices out, Grace says: I would advise people to work together with other freegans, because building community between people is another important aspect offreeganism. People should examine all aspects of their lives to see how they are affecting the world and they should be willing to change."
You might also like...