My Clothes Swapping Party: A Case Study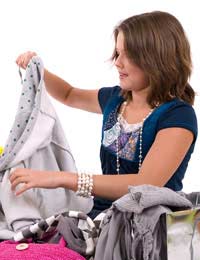 Susie had a clothes swapping party at her house for herself and six other friends. She explained why she decided to have one at home: "As clothes swapping parties are becoming quite popular, I have been to a few in town. I have always enjoyed them but there are often a lot of people and it can feel quite competitive in some ways. Me and my friends have a lot of clothes and we're always moaning about being skint, so I thought it would be a fun way to save money, get some new clothes and meet up."
Organising the Party
Susie talked about how she went about putting the swishing party together (clothes swapping is also known as 'swishing' these days): "I sent out emails and texts to the girls I was inviting about two weeks in advance. I thought I would give them plenty of time to sort out any clothes they wanted to bring. I wanted to give us all a chance to get organised and find some goodies to bring! I told people to bring clothes, shoes and accessories.
"I sent a reminder a few days before to check that everyone was coming. I started to sort out my own contributions as well. In the end I took about six items of clothing that didn't fit or that I didn't wear anymore. The clothes were in good condition though. In fact, some of them had hardly been worn, they just weren't quite right for one reason or another. It's pretty bad really…I also contributed some plastic jewellery, a pair of shoes and a hat."
On the Day
So what happened on the day? Was a lot of organisation required? Susie explained: "It wasn't hard to organise at all. I spent the day clearing up my house and creating space. I just made space in the front room and placed a mirror in there. I also designated the spare bedroom as an area where people could try things on.
"I put out a few nibbles and asked the girls to bring a bottle. We kicked things off about 6.30pm and we had a good laugh. We organised the clothes into types, such as dresses, skirts and tops etc. Because there were only a few of us and we know each other well, we just went for it. If there were more people, I think you'd need to organise things more. I got a new dress which I love and everyone took at least one thing away. There wasn't actually that much left but I just took it to a charity shop the following weekend."
Does Susie have any advice for anyone else thinking of organising a clothes swapping party? She says: "Don't let me put you off going to the larger, organised swishing events for a start. They can be good too. However, having one at home is a bit more low-key and a good chance to get together with your mates.
"Make sure you have a full-length mirror or two, so people can try on the clothes. Be ruthless and get things from your wardrobe that you haven't worn in ages. It's good for decluttering! So, by the same token, only take things away from the party if you know you'll wear them."
She concludes: "Small clothes swapping parties are easy to organise and a great way to recycle clothes. We'll definitely be having another."
You might also like...