Selling at Car Boot Sales: A Case Study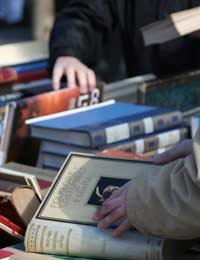 Korina and her boyfriend Pete have been doing car boot sales for around five years now. Korina offers her top tips on making the most of car boot sales as a seller.
"I've done quite a few car boot sales now; for example, when we need to have a clear out or when we've moved house. I have also done a few for friends as I quite enjoy it and I get a share of the profits.
"We usually go to one of two within our region but I have known people travel all over to do them. The best place to find out about upcoming car boot sales is in the local paper.
"Be prepared for an early start, a long day and to work hard. I am always absolutely shattered after we have done a car boot."
Be prepared
"If you're planning to attend a boot sale, keep your eye on the weather. If torrential rain is forecast, you might want to reconsider as the experience is likely to be a fairly miserable one, as well as the numbers being low! On fine days, you'll get far more trade.
"Be a buyer as well as a seller and attend a few car boot sales yourself, especially if the one you're selling at is a regular. You'll get a feel for the people, the types of things people sell and the prices.
"Wrap up warm and take some food and tea. You might not have chance to get anything to eat or drink and you might want something a bit healthier than a greasy burger!
"Also a big one - take plenty of change! I keep mine in a tin. You don't want to miss out on sales because you don't have change. Remember that some people will pay with a £20 note for a 50p item! It's annoying in a way but it's also perfectly understandable. Don't forget carrier bags too – but don't buy them (some people actually do)! Ask friends for saved bags and re-use bags from home.
Pricing your goods
"I always price my stuff up the day before or as soon as I have set up – I use little stickers. Some of the other car booters I've met play it by ear and tell people the prices as they ask. However, I know from my own experience that I find it off-putting if I can't see the price. I don't always want to ask and I usually just leave it.
"I usually do the car boot sale with my partner or my teenage son – I wouldn't recommend doing it alone. It can be a lot of lifting. It gets stressful, too, if you have a few customers and it also helps you keep an eye out for thieves.
Haggling
"I do allow some haggling, especially towards the end of the day but be careful because some people will take the mickey and offer you a really unreasonable amount. Don't be pushed into selling something for a price you're not comfortable with – remember, you can always sell it elsewhere.
"Finally, I would tell people to enjoy it! If you're going to give up your Sunday you should try and have fun while you're doing it."
You might also like...