Running a Car on Biodiesel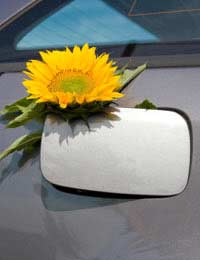 Biofuel is basically fuel that is made from living things or waste produced by organisms. A lot of biofuel is created through the processing of foods such as sugar cane, soya, corn and rapeseed.
The main types of biofuel are biodiesel and bioethanol. Biodiesel is made from vegetable oil crops and is mixed with diesel. Bioethanol is mixed with petrol and is made from starchy and sugary crops.
Will My Car Run On Biofuel?
You may not realise it but, in fact, you probably use biofuel in your car. Since April 2008 all fuel has had to be at least 2.5% biofuel. This percentage will rise to 10% by 2020. At most petrol stations you will find that the fuel is a blend of biofuel with petrol or diesel. However, if you want to use more biofuel than petrol or diesel there are options.
Whether you can use biofuel and what type is most suitable will depend on your care and what it runs on normally.
Most petrol engines can't run on biofuel such as vegetable oil or other mineral biofuels. It's also usually much too expensive to have your petrol car converted so that it's compatible with biofuels. However, there is a greener alternative to petrol in the form of ethanol. Any petrol car will run on a blend of 5% ethanol. However, there are now many purpose-built which are compatible with blends of up to 85% ethanol.
If you run a diesel car, you have more biofuel options. You could run the car on biodiesel – which is processed vegetable oil or you can pay to have your engine converted so that it will run on pure vegetable oil. This conversion usually costs between £1,000 and £2,000. Both of these biofuel options are carbon neutral if you use recycled cooking oils.
Biofuel: Points To Remember
Always, always check whether your car is compatible with biofuel before you fill it up. If you try to run your car on a biofuel that it's incompatible with you could cause permanent damage to your engine and make your car unusable.
Check the terms and conditions of the warranty on your car. In certain cases there may be validity issues with using biofuel.
As biodiesel contains more water than standard diesel it can corrode filters if they are not changed regularly.
Biofuel And The Environment
The jury is still out about the sustainability of biofuels and whether they are more environmentally friendly. On the one hand, they are hailed as a success by many as they support farmers and also reduce the dependence on imported fuel.
Additionally, it's true that most biofuels create less carbon dioxide emissions than their fossil fuel counterparts.
However, many are worried about the effect on agriculture and the amount of land required to create biofuels. Burning and regenerating forests emits a significant amount of carbon dioxide.
It's important to do your research before converting to biofuels as many dispute whether they are the green option that they initially seem to be.
You might also like...