Using Solar Energy in Your Home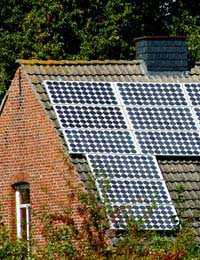 There are two ways you can use solar energy in the home – to generate electricity and to heat water.
Solar Electricity In The Home
Energy from the sun can be used to generate electricity, through the use of photovoltaic (PV) cells. The cells are made from a semi-conductive material – for example silicon. When the sun shines on these PV cells, an electric field is created, and an electricity flow is generated. The more sunlight there is and the stronger it is, the more powerful the flow of electricity will be.
Why Choose Solar Electricity?
The major benefit to using PV cells to generate electricity for your home is that no greenhouse gases are produced. Additionally, using solar-generated electricity will result in far less carbon emissions than using electricity generated through traditional means.
It's estimated that using PV cells to generate electricity could save up to £250 a year on an average household electricity bill.
As a happy side-effect, many find solar panels and cells are an attractive and modern addition to the outside of their home. One point to note is that the initial installation of solar PV cells can be expensive. According to the Energy Saving Trust the average domestic installation cost is between £5,000 and £7,000. However, grants are sometimes available to encourage people to use renewable energy so these are well worth exploring.
Solar Water Heating For The Home
As well as generating electricity, you can also use energy from the sun to heat water for your home. Solar water heating systems use roof-mounted panels which collect heat from the sun. A heat transfer system heats water with the sun-generated heat. A hot water cylinder then stores the heated water for domestic use.
Solar water heating is a very versatile technology and can be used for small and large buildings. However, there are certain space requirements. You will need some south-west facing roof space and space for the storage cylinder.
Again there are considerable set-up costs for domestic solar water heating systems. The Energy Saving Trust estimates than an initial installation costs on average between £3,000 and £5,000. However, this cost can be off-set through a renewable energy grant.
Why Choose Solar Water Heating For The Home?
Solar water heating can account for up to a third of the average household's hot water supply. It is estimated that using a domestic solar water heating system can reduce the average household's bill by about £70 a year.
Solar water heating systems significantly reduce carbon emissions when compared to traditional systems.
Getting Started With Solar Energy For The Home
It is recommended that any equipment and suppliers that you choose for your solar energy needs should be accredited. BERR, the Government's Department for Business and Regulatory Reform, maintains a list of accredited suppliers and products online. Search the Low Carbon Buildings Programme to view the list.
You will also find information about applying for grants. Only those who use BERR's accredited installers and suppliers are eligible for government renewable energy grants.
You might also like...