Great Uses for Stale Bread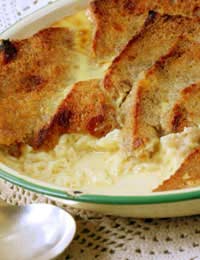 Just because bread has gone stale, it doesn't mean you should throw it away. There are plenty of ways you can use it up in the waste not, want not spirit.
Croutons
Trim the crusts off dried bread and cut the bread into cubes. Grill them quickly, taking care to move them regularly so they don't burn – crispy croutons are perfect for soup.
French Toast
French toast is a delicious breakfast treat and is best made with stale bread. In fact, legend has it that looking for a way to use up stale bread was how French toast came to be in the first place.
All you need is:
Stale bread (This recipe is based on four slices – adjust recipe as necessary for different amounts)
2 eggs
Half a cup of milk
Butter
Icing sugar/maple syrup (optional)
How to make
Beat the eggs together with the milk. Melt a knob of butter in a frying pan. Dip the bread into the eggy mixture, soaking both sides. Fry the bread in the butter until it is browned. Dust with icing sugar and/or drizzle with maple syrup.
Bread and Butter Pudding
Bread and butter pudding is a cheap and satisfying dessert, perfect for winter meals.
All you need is:
Half a loaf of bread (preferably thick-sliced)
Butter
Brown sugar
Half a pint of milk
Dried fruit
Cinnamon
Nutmeg
1. Butter the bread on both sides. Remove the crusts and cut each slice into four triangles.
2. Add a layer of the buttered bread to an oven dish. Sprinkle with dried fruit and brown sugar.
3. Add another layer of bread and repeat until all the bread is gone.
4. Make a few fork marks in the top layer of the bread.
5. Pour all the milk over the bread.
6. Sprinkle more sugar on top as well as some cinnamon and nutmeg.
7. Bake the pudding at 150ºC for around two hours. It should bubble up and the sugar should caramelise. Lovely served with ice cream, cream or custard.

Make Your Own Breadcrumbs
Stale bread is ideal for making your own breadcrumbs, and they come in handy for all kinds of recipes. You can use any type of bread for breadcrumbs and even a mixture of little bits of leftover bread is fine. You can save them up in the freezer until you have enough. You'll need a food processor.
Pull or cut the bread into fairly small pieces. Throw the bread into a food processor gradually. Blend the bread until it's the right consistency. Keep the breadcrumbs in an airtight container. You can use breadcrumbs in all sorts of recipes, such as southern fried chicken, fishcakes, bake topping and more.
Bruschetta
Slightly stale bread makes good bruschetta. Bruschetta is good for using up bread such as French bread and ciabatta. Simply slice the bread and rub on one side with oil and garlic. Bake in the oven for around five minutes at 200ºC.
There are all sorts of things you can top your bread with. For example, chopped fresh tomatoes with basil is popular, as is mozzarella and parma ham. Bruschetta makes a nice starter, light lunch or party snack.
You might also like...