Minimising Food Waste: Food Digesters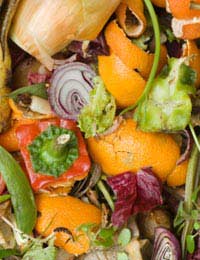 According to a study by WRAP, the government's waste body, we throw away 3.3 tonnes of food waste every year in the UK. In fact we dump around a third of all the food that we buy, despite the fact that much of it is still edible.
When we throw food away it usually goes to landfill sites, and when it breaks down with other materials food waste contributes to greenhouse gases.
One good way to minimise food waste is to compost it. This is when food waste decomposes to make compost. However, only raw food such as fruit and vegetables can be composted. Cooked foods and meat and dairy products can't be composted.
So, what can we do with the waste food that can't be composted? Meet the food digester.
What are Food Digesters?
Food digesters break down all food waste. Some food digesters break down the food to make compost for the garden. Others break down the food waste to almost nothing, creating minimal waste.
Food digesters are suitable for use all year round and will cut down the amount of waste in your weekly bin.
Using Food Digesters
You can put all food waste in a food digester including:
Cooked and uncooked meat
Cooked and raw fish
Bones
Cooked vegetables
Bread
Pasta
Dairy
Some food digesters are for food waste only. Others accept and need an amount of garden waste as well. The ones which need garden waste produce compost. The food-only digesters produce minimal residue.
Your food digester may be able to deal with cat and dog excrement but you should always refer to the manufacturers' guidelines first.
Food digesters can be used alone or in conjunction with a traditional composter. The one you use will depend on individual circumstances. See below for information on choosing the right digester.
Choosing Food Digesters
Choosing a food digester that will be most effective for your household will depend on a number of matters. You will need to consider issues such as:
Whether your household produces a lot of garden waste.
Whether you want a digester that produces compost for the garden.
If your garden has good drainage or not. Some digesters require a garden with good drainage.
The amount of your sunlight your garden receives. Some food digesters need sun, while others work better in the shade.
The size of your household. You can get food digesters that are specifically designed for households of six people or more.
Food Digesters and Vermin
One of the main concerns that many people have when they're thinking of using a food digester is that it will attract vermin. It won't. Food digesters are designed specifically with this serious consideration in mind. The food waste is broken down under the ground. This, coupled with the solid plastic design, means that smells which would attract vermin are not released.
Getting a Food Digester
There are a number of online dealers of food digesters and you can also get a food digester from a garden centre.
It's worth asking your local council about food digesters as some will offer subsidised prices to encourage residents to reduce food waste in this way.
You might also like...