Tasty Ways to Use Up Leftover Rice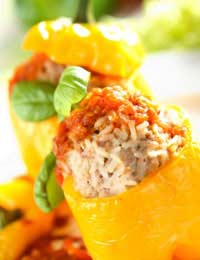 It's easy to end up cooking too much rice and it's a waste to just throw it away. Using it up in other recipes will save you money and is less wasteful.
Storing Leftover Rice
It is true that you have to be careful with eating leftover rice because bacteria multiplies in it quickly, which can lead to food poisoning. However, as long as you store and cook it properly, leftover rice is safe to use. Cool the rice and when it is completely cooled, get it in the fridge in an airtight container within one hour.
Once it's cooled, you can also freeze rice if you want to, to use later.
Now, onto what to make with it!
Fried Rice
Fried rice made from leftover rice makes a great quick tea and is also a good way to use up leftover vegetables and other goods from the fridge. Cut up some veggies such as onion, mushroom broccoli and pepper – really you can use anything. You can also use any meat or fish.
Cook any meat or fish you're using in a frying pan then add in the veggies, cooking until soft. Frying in groundnut or peanut oil will add a good flavour but any oil is fine. Then throw in the rice and stir-fry until the rice is piping hot.
Add an egg or two and cook on a high heat until cooked, stirring all the time to distribute the egg throughout the rice. To add flavour, you can also add extras such as a splash of soy sauce or some chilli flakes.
Stuffed Vegetables
Vegetables stuffed with rice makes a great cheap, easy and low fat meal. Good vegetables for stuffing with rice include large tomatoes and peppers.
For tomatoes and peppers, cut the top off the vegetables. If you prefer, you can cut the pepper in half lengthways. Scoop out the insides and fill with rice. Add a bit of the tomato juice or a spoonful or two of tinned or chopped tomatoes if you're using peppers. This adds moisture.
You can also add herbs and garlic if you like. Top the vegetables with mozzarella or any cheese of your choice. Bake in the over for 20 minutes and serve with salad and crusty bread.
Rice Pudding
Leftover rice isn't just for savoury dishes. You can also make sweet treats such as rice pudding. It makes a nice pudding or snack, or even a slightly indulgent breakfast.
This recipe is based on using two cups of cooked rice. Adjust as necessary, depending on how much rice you have left. Add the rice to three cups of milk or cream and half a cup of sugar. Bring to the boil and then turn the heat down. Add in a few drops of vanilla extract and a sprinkling of raisins, to your liking. Simmer the mixture until the liquid is absorbed. Sprinkle in a pinch of nutmeg and cinnamon.
If the mixture seems too dry add more milk/cream as necessary.
You might also like...