House Clearances: How Do They Work and Where do Things Go to?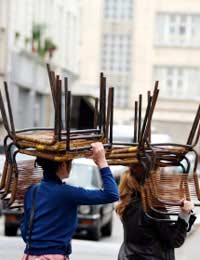 House clearance is when a dedicated house clearance company clear a property completely. This may be because someone is moving into a residential home, following a death, a business winding up, moving premises or downsizing.
House clearance companies may work nationally or regionally. Some specialise in homes and others will also clear offices and other commercial properties.
Having a house cleared professionally is a good way to make sure everything in a house is re-used where possible and that remaining items are disposed of or recycled correctly.
How Does House Clearance Work?
House clearance companies can be found in the Yellow Pages, online or through word of mouth.
House clearance companies will discuss with the client what the requirements of the job are. The cost of the work will depend on factors such as the size of the property, the location, the type of furniture and items being removed and what will be done with the house goods when they have been removed.
There are usually a few options for house clearance customers. For those who don't want any of the items from the house the clearance company will reduce the fee based on any items which they can sell on. Alternatively, house clearance businesses can provide a furniture removal service and put items in storage or take them to a new premises. Cleaning and disposing of waste should be included in the house clearance fee. That's why some people use house clearance companies as a low-stress way to move house - minimal packing and no cleaning.
Deciding What to Keep
Clients having a house cleared will need to decide what to keep, what to get rid of and what to store before the day of the clearance. It is best if a comprehensive list is drawn up or a coding system is used to prevent any confusion later on.
A simple traffic light system is one simple approach. Red stickers for items to keep, amber for those to sell or donate and green for things to be disposed of.
House Clearance: Selling Items On
For those that don't want the hassle or stress of selling items on, the house clearance company will provide a quote for the items that they can sell on and knock an agreed amount off the fee.
Some people prefer to sell things on themselves. eBay, car boot sales and auctions are all good places to do this. For valuable items, such as antiques and vintage furniture, a professional quotation should be sought to ensure the item is sold for a fair price.
House Clearance: What Happens to Waste?
So, what happens to items that can't be resold? If you're organising a house clearance it's a good idea to talk to clearance companies about what they do with waste items. Many house clearance companies now market themselves on the fact that they dispose of goods as greenly as possible. Leftover items that are not being used can be donated, recycled and disposed of safely.
Household items will usually be welcomed by charity shops, some community organisations and refurbishing businesses. Some businesses now accept household electrics and furniture and refurbish them so that they can be donated to people in need, such as re-housing schemes or individuals on low incomes.
House clearance companies should have contacts with specialist recyclers so that all the unusable goods can be sent to the appropriate place. Some businesses specialise in white goods or electronics recycling, for example. Ask about the recycling arrangements before booking.
Once donation and recycling have been explored, only the minimum amount of goods should need to be disposed of. House clearance companies will be aware of waste regulations and should ensure that all waste is disposed of in the correct way. Discuss this before the clearance.
House clearances are a good way to empty a property and make sure that as little waste as possible is generated. Look for companies that dispose of goods greenly (most do these days) and discuss the exact arrangements beforehand.
You might also like...
I'd disagree with some of this. When my mother died and I had to clear her flat, the companies wouldn't pay me for any items, even a new, big fridge. Instead their offer was simply to take everything. They make their money selling it on, which is fair enough, I suppose, and I didn't have the hassle of finding someone to buy this, that or the other. It's not the fairest of system, but it works, and everything was out of theree in 45 minutes.
Chris N
- 27-Jun-12 @ 11:08 AM