Did You Know? Unusual Items You Can Reuse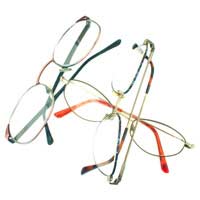 Many people are aware of the most common household items to re-use, such as food leftovers and plastic bags. However, with a little imagination you'll usually find there are thrifty and nifty ways to use loads of household waste.
Items may be re-used for their current purpose, or recycled so that they have an entirely new use.
We look at a few interesting and unusual items to re-use. They should get the creative juices flowing.
Old Glasses
Did you know that you can recycle and re-use spectacles? Neither did we. When prescriptions get updated people often throw their old glasses away and they end up in landfill. It's much greener to donate them.
It's worth asking at the opticians if they're interested in receiving old glasses. Often they will take them apart and use the different parts and screws for other glasses.
There are also charity initiatives which now collect spectacles. These organisations donate the glasses to third world countries. These organisations can be found on the internet and there are now often drop boxes in supermarkets and shopping centres.
Old inflatables
When inflatables can no longer be filled with air, they're useless right? Not necessarily - they may well be able to be used for something else. If you have items such as flat beach balls, air beds and pool toys read on.
Cut up, the inflatables can be used as repairs for other inflatables. Plastics, especially clear or translucent-coloured ones, make interesting materials for collage and children's art projects.
Inflatable beds that have had their day can be used as a waterproof groundsheet or even fashioned into a shower curtain.
Hairspray
Bought some hairspray that doesn't give you good hair days? Doesn't mean it needs chucking out just yet. Use it as a fixative - for artists it will stop chalk and charcoal smudging.
It's also worth keeping hairspray around as a stain remover. Many people swear by it for ballpoint pen stains.
Tyres
You can often see car tyres that have been abandoned littering outdoor areas. Is there anything you can actually do with them? You might be surprised. Keen gardeners suggest piling them up and using them to grow potatoes, flowers and even fruit.
For those with children tyre swings are great fun.
More unusual items to re-use:
Bottle Caps
Crafters find all sorts of uses for metal bottle caps, like the ones you get on beer bottles. Jewellery is one of the most popular uses - pendants, ear-rings and bracelets for example. It's also possible to decoupage images onto the bottle caps. They can also be turned into trendy buttons with a bit of wire added to the back. Make sure sharp edges are smoothed off first.
Wire coat hangers
If you have upgraded your old wire coat hangers to sturdier wooden or plastic ones, of course you can give the unwanted ones away to charity shops or dry cleaning companies but there are also things you yourself can actually do with the old wire hangers.
For instance you can re-bend them to make a mobile or wind chime. If you have loads of coat hangers, they can be used to make a trellis for climbing plants.
Got a fancy dress competition coming up? Wire coat hangers are absolutely perfect for making wings.
When it comes to re-using household waste, all that's needed is a little creativity.
You might also like...