Borrow Instead of Buying: Books, Bags and More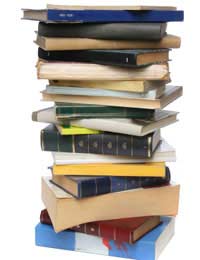 One way to make sure items get used as many times as possible is to borrow things that you need or want instead of buying them. Loaning something instead of buying it outright will also usually cost a fraction of the price. Further, just borrowing something when you need it reduces clutter in the home as you won't need to store the item.
You can now borrow or loan a surprisingly vast array of goods.
Read Responsibly: Libraries and Borrowing
Borrowing books from libraries or friends saves on the energy and resources used making and transporting books. If at all possible try to only buy the books that you will read over and over, treasure, or refer to regularly. Libraries now carry a wide range of all types of books and better still, will usually allow users to order in books that they want to read. For books you really want to own, library sales are a good place to look. Libraries sometimes sell off old books for a good price.
Those interested in borrowing books may also be interested in the phenomenon of book swapping or 'book crossing'. This is when people register a book with a book swapping website and tag it, then they leave it in a public place and someone else finds it, registers in on the site, reads it and passes it on. Book crossing is a fun way to borrow books while tracking their progress across the country or even the world.
Loaning CDs and DVDs
Many libraries loan CDs and DVDs and have a wide range on offer. Borrowing CDs and DVDs can be a good way to try out music before you buy CDs and see new films without spending lots on DVDs or cluttering up the home.
Online DVD rental schemes have now overtaken high street DVD and video rental shops in terms of popularity. Online DVD rental can be an economical and convenient way to see films. All users need to do is set up an account and choose films. The films are then posted out and when the film has been watched it is returned free of postage. The charges are usually either a flat monthly fee for a certain amount of DVDs or a low price (around £2) per DVD rental.
Toy Rental Schemes
Buying children and toddlers new toys all the time can be expensive and unnecessary. After all, children usually get bored of toys pretty easily. The solution to this could be a toy rental scheme.
Toy rental schemes could be run within a mother and baby/toddler group or on a larger scale over the internet. Toy rental schemes are popular in America and interest is growing fast in the UK.
Fashionable Borrowing
You can even rent dresses and handbags these days. That means that if there's a special occasion or you just fancy treating yourself you can rent an outfit rather than paying a fortune to buy one.
Fashion rental may be paid for on a one-off basis or for a flat monthly fee (as low as £9.99) which allows you to have a different bag each month, and that includes designer bags. When you consider how much designer bags can cost this is a bargain! It also saves buying all those items that you only wear once.
Green DIY: Renting Tools
If you've got some DIY or gardening to do, why not rent the tools rather than buying them? This saves them cluttering up your garage and getting rusty when you're not using them.
If you don't rent them it's worth sharing resources such as garden and DIY tools with friends and neighbours.
You might also like...