Waste Exchange Schemes Explained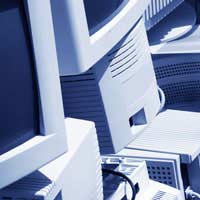 Something that is waste to one household or business will be useful to someone else. But how would you find someone who might be interested in your waste? That's where waste exchange schemes come in. Waste exchange schemes allow people to advertise any waste that they want to get rid of so that someone else can claim it.
Waste exchange schemes are an important part of any business waste management scheme. They are an excellent way for businesses and households alike to make sure as much waste as possible is re-used.
Businesses and Waste Exchange Schemes
Some businesses produce waste that is extremely valuable to another business. This waste may be produced as a by-product of manufacturing or be unused materials, or materials that can be recycled.
Waste exchange schemes will put businesses in touch with other businesses who want their waste, or have waste to offer them. This includes recycling companies who specialise in certain types of waste, for example hazardous, electrical or construction waste.
Examples include waste card being donated to a school and a construction company donating large pieces of green netting to an outdoor events company.
The Benefits of Business Waste Exchange Schemes
As well as the benefits to the environment of recycling and re-using materials which would otherwise be disposed of, waste exchange schemes have direct benefits for businesses themselves.
One of the main benefits of waste exchange schemes is that they save businesses money. On average businesses in the UK spend 4.5% of their annual turnover on waste disposal, and spend further money on raw materials. Through waste exchange schemes they can save money in both these areas.
It is important these days for businesses to show that they are environmentally responsible. Being part of a waste exchange scheme will be a good addition to any businesses' green waste management scheme.
On an environmental level, waste exchange schemes keep waste out of landfill. Landill sites are running out and current landfills are filling up. Not to mention the harmful gases and water contaminants that landfill sites can produce.
Finding a Business Waste Exchange Scheme
Waste exchange schemes are run on regional, national and even international levels. Relevant schemes are easy to find online. Industry-specific trade associations should also be able to advise on suitable schemes.
Household Waste Exchange Schemes
There are also similar waste exchange schemes run for households. They are usually online and individuals can list something they want to get rid of, and someone else can claim it.
Household waste exchange schemes are largely run on a regional level so that individuals can pick up or post the waste items easily.
You might be surprised at the variety of goods that are offered and snapped up through household waste exchange schemes. Goods as diverse as plastic crates, knitting machines, books, records and an old sink, for example, will probably all be exchanged at some point.
People can also request items on these sites. Doing this might jog someone's memory about something they have in the loft and had been meaning to get rid of.
Freecycle is the largest and most well known waste exchange schemes but many more are now springing up.
You might also like...