Squatting: Living for Free in an Abandoned Building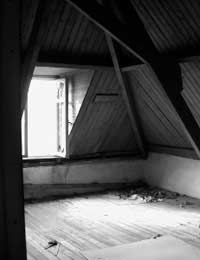 Squatting is when people live for free in an abandoned or unused building. Some experts estimate that there could be as many as a billion squatters in the world today. Squats, as the residences are called, are often used for cultural and community projects as well as living in. These activities may include workshops, concerts or soup kitchens for the homeless.
Many squatters believe that squatting is one small way to redress the imbalance of buildings going empty while other people are homeless and more and more properties are being built. Squatters are also obviously often homeless people and not squatting by choice.
Many people who squat are interested in the Freegan movement. More information on this can be found in our article 'All About Freeganism and Dumpster Diving'.
Is Squatting Legal?
The legalities of squatting are a grey area for many people interested in it and they worry, understandably, about breaking the law. Squatting itself is not illegal.
However, what is illegal is breaking and entering to get into a property, for example breaking or damaging doors or windows to get in.
Those who want to squat and find a property that is difficult to get into should be wary that they don't inadvertently break the law when trying to get in.
Finding Somewhere to Squat
How do people who are interested in squatting find a suitable property? Do they just wander the streets in the hope of finding an empty and open property? Well, probably sometimes but that's not the only way. There is in fact a sort of organised squatting, if you will.
Some areas have a local squatters' group who can advise on places to squat and also group people together to squat. Squatting in groups is generally considered safer than solo squatting.
There is also an organisation called the Advisory Service for Squatters which can advise on squattable properties in your area.
When considering squatting in a particular property, it's best to try to find out as much as you can about it, for example who owns it, how long has it been empty and is there a particular reason that it's empty. The longer a property has been empty the lower the chances of being moved on quickly.
Living in a Squat
As well as for reasons of safety it's best for squatters to live in groups because practically speaking there really needs to be someone in the property at all times. That's because the landlord can't force his way in once the property is occupied.
Landlords can however get a court order to force squatters to leave fairly easily and then they must legally leave. The police may also come to a squat but usually, unless criminal damage or another offence has taken place, they won't arrest anyone. Should a squatter be arrested they can seek help from the Advisory Service for Squatters.
Squatting and Utilities
One thing squatters must remember if they want to stay on the right side of the law is that if they use gas, electricity and water, they must get officially connected by registering with the utilities companies, otherwise this is legally stealing and they may be prosecuted.
You might also like...