Alternative Uses for Old Records, CDs and Tapes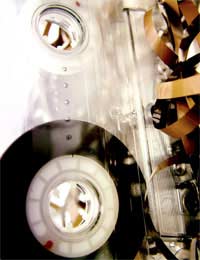 CDs, tapes and records take up a lot of space and they sometimes get damaged. For those having a house clearout, for example moving home or spring cleaning, old CDs, vinyls and cassettes often end up on the 'to go' pile.
Also, with many of us now storing our music digitally, we no longer need to keep the original CD, record or tape once the music has been transferred to the computer and backed up.
For those with unwanted CDs, tapes and records lying around, there's no need to file them in the bin marked landfill just yet. Here are some ideas on alternative uses:
Give CDs, Cassettes and Records Away
Someone else may well be very glad of unwanted CDs, records and tapes. Charity shops accept music and many people find a lot of joy in scouring second-hand shops and finding a gem of an old tape or a record they had completely forgotten existed. With charity shop prices so low, some people use them as a way to experiment with new music. Buying a record for £1 and finding out it's rubbish is a lot less upsetting than finding out the same thing after paying £15 for the CD brand new.
Hospital radios may also be interested in receiving unwanted music, so that they can entertain patients. A range of styles and eras will be appreciated.
Giveaway sites such as Freecycle are good places to advertise a big stash of records, tapes or CDs. It can be useful to group them into themes, acts or styles as collectors and DJs may look out for this kind of thing.
Music doesn't usually fetch a very high price on auction sites or in shops. However, rare records, limited editions, picture discs or signed items will usually raise a lot more money. Second-hand music shops usually still buy records, CDs and tapes too.
Crafty Uses for Old Records, CDs and Tapes
If the music isn't playable anymore, there may well still be a use for the actual items themselves. Wear them decorate with them, use them round the home…you'd be surprised.
Tapes
Some hip young things have been seen wearing tapes as large pendants around their necks. Just attach the tape to some, cord or coloured ribbon. For the best look retro is best - extra marks for obscure, cheesy or 80s bands.
For the skilled crafter, tapes can be used to make wallets or belt buckles.
The actual tape part of cassettes is often used by keen gardeners to keep birds off their crops and plants. Just drape it between posts and canes, above the plants. The rattling sound and reflective surfaces scare birds away.
Often people want to keep the actual music from the tape but are aware that the cassette itself is on its last legs. Home-made mix tapes can have particular sentimental value. It's possible to convert tape music to digital. Free software is available online to do this. The sound quality isn't great but it's better than using the handpicked mix tape songs your first girlfriend made for you.
Innovative types have been known to knit with tape. It's ideal as it's flexible, durable, waterproof and unusual. It works well for bags and hats and could sell well to those interested in buying trendy eco items.
CDs
Unwanted CDs (and DVDs) make good coasters to prevent cups from staining worktops and tables. Again, amusing, daft or obscure CDs will gain the most kudos as a style feature.
CDs and DVDs can be used to create an imaginative partition or curtain in a room. Drill four holes in the edges and attach the CDs and DVDs with wire to form a sheet that you can hang from the ceiling.
Music fans can make a wall clock with CDs. Attach large clock hands to the wall (you can buy these online) then use one CD as each of the 12 points around the clock.
Records
Records can be melted and moulded to make a record bowl. These make a retro style statement and can be used to store all sorts of things or just as ornaments.
Record sleeves are often enjoyable just for their artwork. Shops are now selling record frames so that you can mount the sleeves on the wall.
Style mavens have been seen sporting bags made from record sleeves. The sleeves are laminated and punched with holes then strung together. Instructions are available online.
You might also like...